Today, 5th June is World Environment Day. In honor of the occasion, we thought it'd be great to share some tips to go green. If you care about the environment and always look to adopt sustainable grocery practices- and we highly recommend you to do so- here are some action steps you can take.
Buy food in season
Besides choosing eco-friendly products, buying food when it is in season is one of the solutions towards environmentally conscious habit. Not only is it fresher, cheaper and more nutritional, but it also supports our Nature and saves the Earth. Eating seasonally reduces the demand for out of season products and further encourages local farming and local product. When you choose seasonal food, you're contributing to reducing the cost of transportation, refrigeration, restoration and irradiation of produce.
For example, pick grapefruit instead of strawberries in the winter, they are as rich in vitamin C as strawberries and good for digestion system.
Replant what you can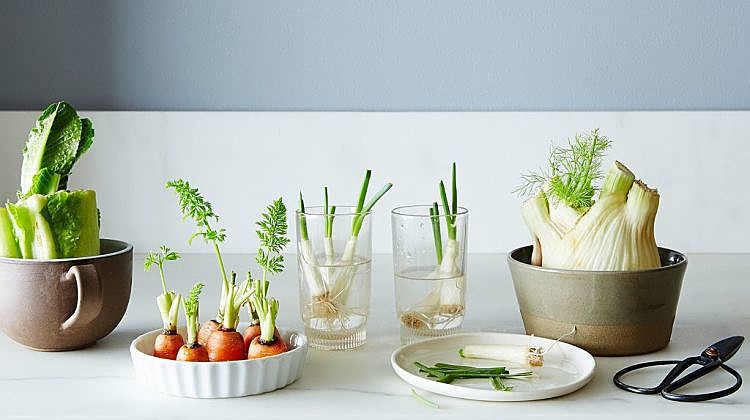 If you're still craving for strawberries in winter, you can grow it at home by yourself. They are incredibly easy to grow, either in containers or hanging baskets, and home-grown strawberries taste delicious and are nutritional too!
Some food scraps can be replanted at home to grow to a new one. Tomatoes, avocado, mushrooms or cherries are top examples and versatile to be grown themselves. By turning the food waste into food in your own garden, you are likely to cut down on your grocery bill and on negative effect on the environment.
Use reusable shopping bag
In addition to lengthy decomposition, plastic bags require higher cost to recycle than its actual value. For this reason, most recycling will not take them but throw them out with the other trash instead. Thus, having reusable shopping bag all the way with you every time you go shopping is perfect to reduce the cost of buying a plastic bag and minimize carbon footprint.
Opt for digital receipt
Traditional paper receipts don't just use up more papers, they also clutter up your wallet. Digitalization makes room for advanced options in which email or text receipts are introduced in new POS (point of sale system). Next time when you do grocery, gently ask for digital receipt if possible. This cut down on paper usage and waste.
Go paperless payment
Another solution to go paperless is to use digital credit cards. Have you ever wondered how much carbon footprint your credit card leaves behind? Most credit cards are made of PVC (Polyvinyl Chloride) – a toxic compound that produces carcinogens and toxins including chlorine residue and heavy-metal pollutants. In the US, around 30 million tons or 60 billion pounds are discarded annually, and just only 7% of them recycled. The rest of them is tossed into landfill causing waste stream. Many stores today allow digital payment and also digital loyalty card in an attempt to reduce environmental impact. If you're environmentally conscious and want to take steps to save the Earth, download our app and contact us at https://www.customerloyaltyapp.com/reseller/.