This post is updated on June 16th 2020
Though it feels like we just celebrated all of our wonderful mothers, Fathers' Day is approaching around the corner (If you're bad at memorizing, it is on this Sunday 21st June). For retail The day is as important as Mothers' Day since it was worth $15.3 billion in 2018 and is expected to raise up to $16 billion this year.
It is likely that you already have a gift idea and dinner plan to your father or your children's dad; however, when it comes to the marketing plan, it is getting down to the wire. Dads are far from the traditional stereotype with ties, watches or whiskey bottles; they are smartly dressed, digital-minded and social-media conscious. Thus, promotion for Fathers' Day needs to be innovated and got up-to-date.
In this post, we round up some of the best Fathers' Day promotion idea for 2020
1. Run a special promotion for Fathers' Day
Promotion for this day can be ranging from the discounted price for men's products, a gift voucher for dad to special Father's Day collection. Brands can encourage specific-product sales with discounted prices, for example, "We've got deals on dad's favourite ties. Get 3 for $80. Thanks, dad!".
Curating a bundle or collection especially for this day helps to solve shopping confuse and also showcase your range of goods. It even, in some cases, aids in selling slow-moving stock by combining them with better-performing merchandise.
If you have a loyalty program, consider rewarding extra points or dollars for spending on specific items.
2. Encourage people to share their story
What generates more engagement than creating a contest on social media in which participants share stories about their dad and win a meaningful prize for their special men? It's a great opportunity to show your commitment to the customers and let them know about the value of the company. Share photos and messages that remind them there are people behind the screen and encourage them to share theirs also. Don't forget to make your own designated hashtags, it makes your campaign go viral!
Below is the social media contest run by Combatant Gentlemen to encourage people to share the picture of bad dad's jeans with the hashtag #ByeByeDadJeans in 2014.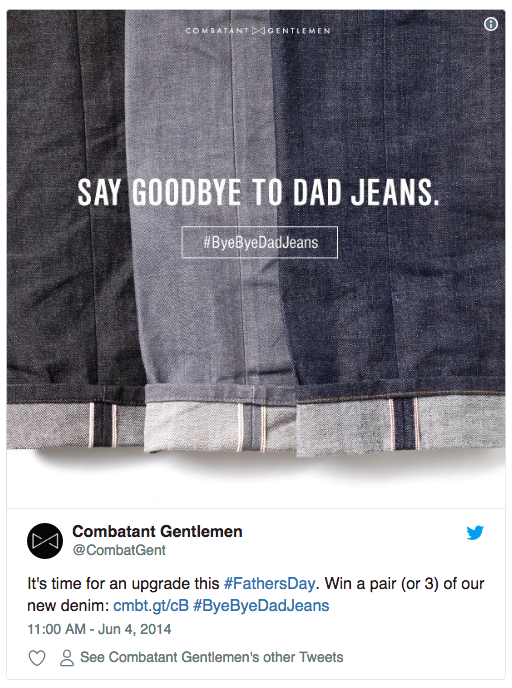 3. A little humor goes a long way
Fathers' Day is getting bigger than ever, largely driven by Millenials who make use of social media to celebrate the special day. The level of engagement humor brings to posts on social sites is incredibly amazing. Inject humor into your promotion for this special day and you might be amazed by how it leverages your brand awareness.
Some examples of Dad's jokes that could be used for product promotion: